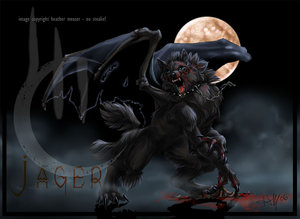 Name: Jager
Breed: I Am Your Own Personal Hell
Gender: Male
Color: Black
Eye Color: blue
Power: I Can And Will Twist Your Soul, Break You And Bend You To My Will. You Will Give In. There Is No Fighting This, So Just Stop Trying. Just Give In, Just Give I....
Personality:
I am the rage that eats your mind, till nothing good is left behind......
I am the pain that blinds your eyes, pounds your head, and makes you lie......
I am the doubt that lingers there, did anybody ever care?
The voice that keeps you up at night, the adrenaline you know you like......
The urge to crush somebody's life, the little thrill that makes you psyched,
The churning, swirling, in your guts that make you wish you could throw up
The drum that's banging in your heart, feel how invincible you are
I am the one they cannot beat, with me you'll never know defeat
When hypocrites and zealots rant; I pull the strings that make them dance.......
I Am Hate